Taekwondo Tigers on Good Day Sacramento
Our Taekwondo Tigers demonstrated their Taekwondo skills on Good Day Sacramento!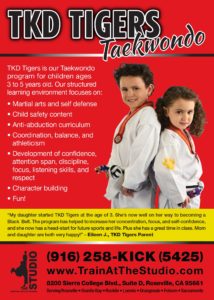 Our Taekwondo Tigers martial arts program is nationally recognized for children ages 3 to 5 and is designed to meet the needs of today's sophisticated and active child.
Many martial arts programs exclude children in this age range because they lack balance, coordination, attention span, self-control, and discipline. Taekwondo Tigers is a martial arts for preschoolers program specifically designed to develop these skills and to prepare a child for future success in martial arts, other sports, education, and career.
Enrolling your child in our Taekwondo Tigers martial arts program provides these benefits:
• Leadership. One of the core components of our program is the development of young leaders. In class, every child will have many opportunities to practice leadership skills. We teach kids how to speak in front of a group with confidence and clarity; even our most shy children eventually embrace this and have fun with it. Self confidence does not come naturally for some children, but will be developed over time. As a child accomplishes new goals, his or her confidence level increases. There are countless ways these skills will benefit a child later in life.
• Self Defense. Children's self defense can take many forms. Many parents worry about their child being safe on the street, but often the most pressing need is the ability to defend against threats from bullies. Our martial arts for preschoolers classes teach children to think first and appropriately respond in various real-world situations, rather than simply panicking and reacting. Kids will learn the physical tools for defending themselves while focusing on the responsibility that comes along with this knowledge so it's never misused.
• Safety. As parents, safety is our #1 priority, but no matter how vigilant we are, it can only take a moment for something to go wrong. It's critically important to empower our children to take an active role in their own protection. Taekwondo Tigers is designed to provide kids with a comprehensive view of personal safety. With fun but firm age-appropriate instruction, kids will learn about stranger danger including tricks and techniques that sophisticated predators use plus the tools to manage this. They'll also practice fire safety, what to do should they get lost, and general safety tips and techniques.
Taekwondo Tigers provides a total learning activity that will create results in other areas of life. The self-confidence, self-control, and discipline needed for future structured learning will be developed, nurtured, and reinforced. Emphasis is placed on focus, listening skills, memorization, respect, and discipline.
THE STUDIO is a member of the United Taekwondo Association (UWTA). An approved Kukkiwon school, we teach Kukkiwon poomsae (forms). Visit our "What is Taekwondo?" page to learn more.
To learn more about our Taekwondo Tigers program, please watch the video, call us at (916) 258-KICK, or click "Try a Free Class" below to get started.
THE STUDIO offers private lessons for children of all ages and abilities, including martial arts for preschoolers. Our amazing instructors are knowledgeable, patient, and fun! We can design a personalized training program to best suit your child's needs while keeping them engaged, enjoying themselves, and learning martial arts principles. Private taekwondo lessons with an experienced instructor can help your child thrive, whether they need one-on-one time to learn and master new material, personalized attention due to special needs, or extra practice outside of the group environment. Or perhaps your child would like to compete at a national or even Olympic level. Private lessons with our highly-trained, accomplished instructors can help them reach the highest level of competition. For more information about our private lessons, please call (916) 258-5425.