Taekwondo Tigers on Good Day Sacramento
Our Taekwondo Tigers demonstrated their Taekwondo skills on Good Day Sacramento!
Our Taekwondo Tigers martial arts program is a nationally-recognized program for children 3 to 5 years old, designed to meet the needs of today's active child.
Most martial arts programs exclude the three to five year old children because they lack balance, coordination, attention span, self control and discipline. However, our program is designed specifically to develop those skills. Our Taekwondo Tigers program is created to address all of the above needs and to prepare the child for continued martial arts development, other sports, and future learning. Here are some benefits of our kids' martial arts classes for young children:
Self Confidence Self confidence does not come naturally for many children, but is developed over time. As a child accomplishes new goals, his or her confidence level increases. Kids martial arts classes help young children become more self confident because they progress individually, at their own pace, and are not judged against others. The Taekwondo Tigers program is designed to specifically boost children's self confidence.
Self Defense Children's self defense can take many forms. Many parents worry about their children being safe on the street, yet one of the real needs is the ability to defend against other kids. Our kids' martial arts classes teach children how to react in different situations by thinking first and not panicking in potentially serious situations, as well as how to deal with threats from bullies. Taekwondo Tigers is designed to provide kids with a comprehensive view of the meaning of personal safety.
Coordination Our kids' taekwondo classes challenge the entire body, developing coordination, balance, agility, and poise, skills which are often neglected in many team sports available to children in this age group. The development of motor skills at an early age gives Taekwondo Tiger kids an advantage in this area over most other children.
Participation and Fun! In our Taekwondo Tigers class, every child participates throughout class, instead of sitting on the bench or the sidelines, which occurs in many sports. Martial arts classes allow children to reach their maximum personal potential rather than being compared to other kids. Taekwondo lessons are a dynamic and challenging activity for children who are athletic or awkward, bold or shy. Taekwondo is for every child!
With all of these benefits, Taekwondo Tigers offers a total learning activity that can show results in other areas of life, too. Children gain self control and discipline needed for structured learning programs such as martial arts, preschool, kindergarten, and elementary school. The Taekwondo Tigers program will give your child a headstart on structured learning while introducing them to Taekwondo.
Taekwondo Tigers also provides a training ground for tomorrow's athletes, as the program helps the children develop their motor skills, balance, and hand-eye coordination.
In any art, there is a product. At THE STUDIO and Pourarian's Taekwondo, the product of our Taekwondo Tigers program is a young child with common sense, self confidence, a positive outlook on life, and an open mind for learning.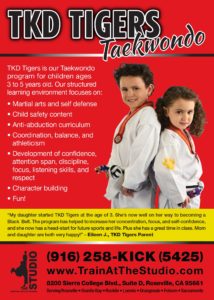 Our family has been part of The Studio Martial Arts and Fitness for almost four years now! It has been an incredible experience for our entire family! We have four children in the program ranging from 9yr, 7yr, 5yr and now 3yr old who have all benefited significantly from their program! Too many positives to mentions!!! The staff across the board are so passionate and sincere about helping each and every persons individual journey through martial arts and overall fitness!! They truly love what they do and it shows as they help make every individuals journey a true special one! We feel so incredibly blessed to be part of The Studio family and look forward to watching our kids as well as their peers continue to grow and flourish within the program for many many years to come! – Trent L.