At THE STUDIO, community outreach and charity work are extremely important to us. Throughout the year, we support a number of charitable causes by hosting fundraising events.
We try to select one charity (or a person in need) every month to support. If you are looking for school fundraising ideas, have a charity near and dear to your heart, or know of someone that is in need, please contact us online or give us a call us at 916-258-5425(KICK) to see how we might be able to help.
Fundraising events could include (but are not limited to) the following:
Parents night out
Kids night out
Zumba party
Dance party
Casino night
Family night
Open Mic/ Talent Night
Crab feeds
Ice cream parties
Bootcamps
Self defense
Cardio kickbox
Ninja obstacle course
Spin party
Yoga Meditation
Carnival
Blood drive
Food drive
Jogathons
Breakathon
Have something else in mind? Tell us what you want and we will see if we can accommodate!
Examples of previous charitable events we've held include a Zumba dance party to raise funds for the Children's Tumor Foundation, a Halloween party to benefit a local family in need, and a Giving and Gratitude Day Camp to collect food for the local food bank.
Each year we also offer a free self defense class for women, encourage students to perform community service hours during our Summer of Service, allow students to buy and wear pink belts (instead of their regular color belt or black belt) in October to raise money and awareness for Breast Cancer Awareness Month, collect socks for the homeless during November, and collect essentials for the homeless in December.
We would love to support your cause, too! If you are looking for fundraising ideas for schools, scouting groups, or charitable organizations, please give us a call at (916) 258-KICK (5425).
---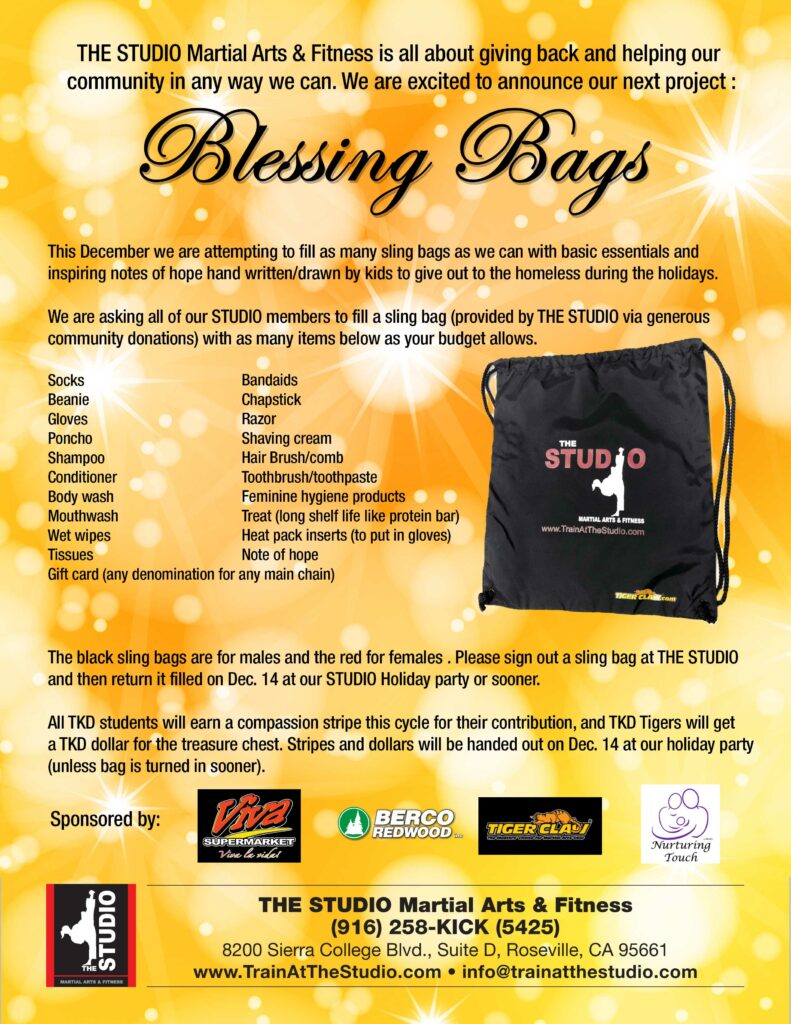 ---
Charities THE STUDIO Has Supported
We are proud to have supported a number of charities throughout our city as well as the nation, including:
Ackerman Charter School
American Cancer Society Relay for Life
American Red Cross
ALS Association
Blue Heart International
Carl Sundahl Elementary School Foundation
Children Uniting Nations
Children's Tumor Foundation
Creekview Ranch School Parent-Teacher Association
Crohn's & Colitis Foundation of America
Cystic Fibrosis Foundation
Destination Imagination
Dewey Fundamental Elementary School Faculty Organization
Eureka Schools Foundation
Fair Oaks Presbyterian Church, Mission Outreach
Folsom Sea Otters
Franklin Parent Teacher Club
Goodwill Sacramento Valley
Granite Bay Grizzly Football Team
Granite Bay High School Boys Basketball Booster Club
Granite Bay High School Touchdown Club
Granite Bay Youth Lacrosse Club
Greenhills Parent-Teacher Club
Greenhills Elementary
JDRF (Juveline Diabetes Research Foundation International)
Junior Achievement of Sacramento, Inc.
KidsFirst
Leukemia and Lymphoma Society
Loomis Basin
Loomis Community Preschool
Make-A-Wish Foundation
Nor Cal Clean and Sober Living, Inc.
Nor Cal Sup Fitness
Placer Elementary School
Progressive Employment Concepts
Ridgeview Elementary School
Roseville High School Booster Club
Safetyville
Sierra Elementary School
Spring View Middle School
Stand Up Placer
Stoneridge Elementary
Susan G. Komen for the Cure
Toys for Tots
Unravel Pediatric Cancer
Wellness Within
Wheatland Union High School
Woodcreek High School